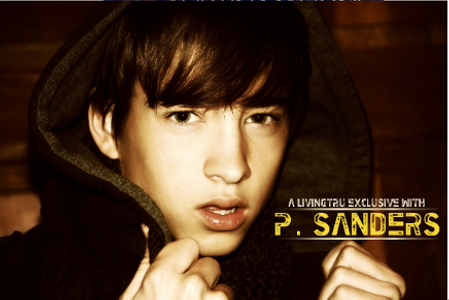 It's been a long time coming, but I have a treat in store for you all! This edition of One-on-1 features Rap sensation and Youtube phenomenon, P. Sanders! At only 16-years-old, he's already taken the Rap game by storm! With thousands of fans and being the cause of what is now referred to as "Sanders Syndrome," there's no question in my mind that this young man is going to go far in the music game! Click the link to check out my interview with P. Sanders!
P. Sanders!!!! What's good! Thank you so much for speaking with me! LivingTru is so excited to have you!
Thanks for having me! I'm happy I could be a part of this.
Me too! So let's get to it! First off, I have to say that your fans go hard for you! A girl named Riley (@Mahomie_4Ever) suggested that I check out your music, and I'm glad that I did! Thanks for the tip Riley! P, can you give her a shoutout?
Riley thanks so much for spreading the "Sanders Syndrome" and being such a great fan. Your a true Psanderette. Keep shining, and much love to you!
Cool! Thanks again Riley! So my first question is an obvious one, how long have you been rapping and what inspired you to start?
Well I've only been rapping for about eight months now. I started because some people around my school would always rap at football games and other places and I just felt like I could do it too. Plus, I have always loved music and since I couldn't sing very well I just picked up rapping. It's what drives me to the feeling of having success.
Wow, so you're fairly new to the rap game. You're really good! Especially for somebody that's just starting out! So you've become popular really fast, how does it feel to have fans? Did you think that it would happen this quickly?
The fans are what I look forward to everyday! Just reading all their messages and getting fan mail is enough to make me feel like the most loved kid on the planet. It's amazing how much support I have been getting lately and I never thought it would happen this fast! It was within a matter of weeks that I had a thousand followers, and it's been growing uncontrollably ever since. It's a rage that my fans describe as "Sanders Syndrome."
Lol! Well, it certainly seems like an epidemic! I know if you keep at it you'll go far! So, do you want to pursue music on a professional level? What are your dreams for your career?
Of course I do! It would be just plain stupid if I stopped as an internet Rapper. I have bigger dreams than most people can really understand and throughout all the obstacles and turns that the future has to hold, I'm never giving up. My biggest plans for my career are to win a Grammy, tour all over the world, receive the highest honors for an album, and of course star in a movie. It doesn't have to be about my life, but I've always wanted to be in one.
It'll happen! I know it will. You have a strong support system with your fans and I know that they'll push you towards you goals. While we're on the subject, does your family support you with your music, and every other aspect of your life? 
Yes, my family supports me 120 percent through everything I do. My mom even got a twitter (@Saucy_Mama) and my grandma too (@Grans_Loves) just to talk to all my fans as supporting figures. I'm extremely blessed to have such a loving family, it's sort of unreal how much they care.
Wow, you're Grandma has a Twitter? That's so cool! Lol, Guys make sure you follow them! So P, even though you just recently started rapping, you obviously chose that kind of music for a reason. Is Hip Hop your favorite genre? Who are some of your favorite Artists?
Hip-Hop has always been a part of me, the very first rap song I ever heard was by Jay-Z, he has always been my role model. Eminem influences my music as well, he is one of the greatest out there. Drake, Kanye West, and J-Cole are big inspirations to me also. They make me want to do greater things and be better everyday.
Cool, we all need somebody to look up to especially when trying to pursue our dreams. You have a lot of people that look up to you, so what advice would you give to another kid wishing to pursue a career in music?
Never give up. That's what I tell everyone...Never give up! If you let the haters and the problems get in the way of who you are and what you want to do, there is no hope for your career at all. You have to constantly work to be better than the day before and improve your skills in every aspect. Shoot for the stars cause there is nothing higher that could ever stop you. Be you, and never change, cause chances are people will love you for who you already are.
Very wise words my man. So off the music for a minute, I always ask this question because I know how important it is to me. Do you believe in God? What role does he play in your life and in your music?
Of course I believe in God. He has been the main fuel supply to the fire that has ignited. In other words, now that he has got me started there is no stopping this legacy that is literally building right in front me. I've always given him credit, cause without God where would I be?
So true! None of us would be anywhere without God! I know that can be considered a personal question, so thanks for answering. Alright, back to the music, what do your fans have to look forward to? Do you have any new and exciting projects coming up?
I will be on a TV show for VH1 called H.O.T. (Hip-Hops Outstanding Talent) and it airs sometime this year. I also will be opening for Mac Miller this summer in Chattanooga Tennessee. There will be tons of new videos uploaded to my Youtube channel and some surprises coming up as well. Maybe a few commercials or something along those lines. Stay Tuned.
Wow! Congrats! Tv shows, opening for Mac Miller, commercials? You're doing it big! Good luck with everything! I see you're a busy man so I won't keep you any longer lol, I just have one more question. What is your greatest ambition?
To be loved by the world, and inspire people everyday to be the best they can be. To make great music that people everywhere can relate to and learn from, and to accomplish every dream I've ever had.
And there you have it folks! P, it's been an honor having you! Good luck with all of your endeavors, and don't forget to keep me posted on your success! Guys you know what to do, make sure you connect with Peyton Sanders on all of his social networks!
Facebook
Youtube
Twitter
Check out P.Sanders' cover of "HYFR" by Drake!