We at LivingTru.com are so excited to present Singer/Songwriter, Tyler Matl! At only 17 years old, Tyler is already making his mark on today's music industry. Currently residing in Nashville Tennessee, Tyler has had the opportunity to work with some really big names in the industry and there's no doubt in our minds that he'll go far! You know what to do, click "Read More" to check out a very inspirational interview with Singer/Songwriter Tyler Matl!
Tyler! I'm so excited to have you! Thank you so much for speaking with me!
Thank you so much for having me! I really appreciate it, and I cannot wait to began!
Usually I start the interview with a question about music, but i'm going to switch it up a little bit this time. I know the answer to this already, but I really liked how you answered it and how personal you made it. So the first question is, Do you believe in GOD?
"I believe in God, and that everything happens for a reason. When I was younger I went through alot that I don't feel most kids or people in general should go through. My biological father passed away when I was five, I was diagnosed with Tourettes Syndrome, which you wouldn't notice by talking to me, because I have been very blessed due to an old seizure medication I use which hides it, and I was teased a lot in school. It's been my faith in God that got me through those times, and shaped me into the person I am today! I actually started out singing with a youth group at my church. I grew a lot in my relationship with God through that opportunity and learned a lot more about how important music is to me. I personally feel and believe that I am meant to be in the music business but I don't worry about when my career will launch or take off. I have already put that in God's hands because that is for him to know and decide when I am ready, not me.
I know that can be considered a personal question, so thanks so much for being open and personal with the answer. You're awesome Tyler! (Lol) Now, let's jump into the music related questions! I've gotten a glimpse of your work ethic just from following you on your social networks. You work really hard to get your music out there, and I've noticed that you always reach out to your fans. So music is obviously something that you're really serious about pursuing, where does that passion come from?
Music is what I really love doing and is always how I have expressed myself. It's something I'm blessed with and comes easy to me, but now that I am trying to be successful as a Recording Artist I have to work very hard each day. When I was younger, I picked up music really easily. I was five and I could hear a song one time and remember every single lyric. I also hear music in my head, and when I was younger, before I played any instruments, I wanted to make what I heard come to life. Eventually I got a keyboard from my grandmother. Then I was able to make the sounds I heard actually happen and I started playing by ear. I also picked up the drums and guitar by ear. I've been songwriting since I was twelve. I'm really blessed to live in Nashville where I have the opportunity to pursue music because of all the other contacts, organizations, and the great history of music that Nashville has to offer.
That's awesome! I'm sure a lot of musicians would love to live in Nashville, the opportunities are endless in a musical city like that. You mentioned songwriting and I know that you write a lot of your own music, would you ever, or have you ever worked with other writers?
I write a lot of my own music, however, I have been really fortunate to write with some amazing writers who have already had songs cut by other well known artists, or have had songs on the Billboard Charts. I have even wrote with Grammy nominated writers and they all have something great to teach me that I didn't know before! I use my personal experiences and the things I go through that maybe others can relate to or might share a similar experience to write a song. Most often when I write, the idea comes from something I felt about someone or wanted to say to them in a certain moment but passed on it. I never rush a song when I write it. If I start a song but during the first verse or halfway into the chorus I loose interest or feel like it has changed direction from where I was intending it to go, then I will stop and come back to it later. When I am writing I try to write as if I was more than one person. What I mean by this is, I write from as many point of views as possible so that I am not just writing a song that only I will relate to. I want my music to be relatable by as many people as possible. I think it is great when a song is able to move you emotionally.
I totally agree. I think that's one of the major components missing in music these days, they kind of lack a sense of feel. Speaking of which, how do you feel about the current state of music?
I think that music changes with every generation and that not everyone likes change, however it's something we should learn to appreciate. There are alot of really exciting things that can be done to songs with technology these days, in the recording studio, that couldn't be done in the 70's and 80's. As long as we don't overuse it, I think it can make music great for everyone! I do however think that it has changed in ways that are depriving listeners of what they would get in past times. Nowdays there is still talent, but everything is very identical sounding. Where as in the 70's or 80's people were always exploring new things with music. I sometimes wish that artists would try to break out of their shells and do something that is not already going on. Music is always changing and always will be so I am curious to see what "music" will be when I have children.
I expect it will be a lot different from what it is now lol. That's the great thing about music, it's timeless and forever changing. So, who would you say are some of your biggest musical influences?
I definitely look up to Taylor Swift, which is for a few reasons. Since I live in the same area that she lived in when she made it, it makes me work that much harder to succeed because I hear a lot about how she made it and what she did to get there, so I already have a set of footsteps I can follow behind. The other thing that gives me a lot of respect for her is that she is a celebrity, but she doesn't make it a big deal. I had the chance to be an extra in her music video You Belong With Me, and I met her afterwards at a local shop and she was really nice and sincere with me. If I make it as an artist I want to be the same way towards others around me and always be thankful for what I would be lucky enough to do. It's actually kind of funny that I look at Taylor as an inspiration because I am always compared with Taylor Swift or told that I'm the male version of Taylor Swift. I completely take it as a compliment when someone tells me that because she has earned a lot of respect and has accomplished more than most artist do in a lifetime and she is only twenty-one. Also she is very much like the "girl next door" and has a good image to her so if I am seen with a good image too, than I think I'm doing something right.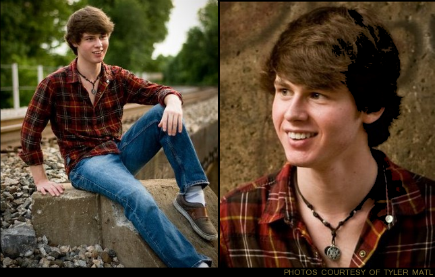 That's a really awesome answer! I'm a fan of Taylor Swift as well, and I've always noticed how real she seems when she's being interviewed. I think that's so cool, because being a celebrity tends to go to some people's heads. I think highly of anyone who can keep that balance. So Taylor, like you said is an inspiration to you especially in terms of her career. As far as your career goes, what is your greatest ambition?
To make it as a Recording artist and to gain respect for what I love to do. I want to be successful, but do things for other people whenever I can and however I can. I mentioned that God does everything for a reason, and I think that all the experiences I've been through were so that if I make it, I will be thankful for what I get, and understand that there are others out there with way less and more who have nothing at all. I know that I have what it takes to make it, but I also want to be different. I don't want to do whats already been done. I want my music to show a sense of honesty and realism for what I feel and I don't just want to be another guy singing about money, fame, and sex. I think there needs to be a male singer who isn't afraid to show emotions and be sensitive , because you never hear anything about true love anymore on the radio, it's mostly one night stands and songs about "I want to take you home and have a good time". It would be good for both men and women to hear a different point of view coming from someone of youth.
And
THAT
my friend, is exactly what "LivingTru" is! Artist who are willing to step up to the plate and be a good role model, because they're going to be labeled as one anyway. I haven't heard too many artists your age say that. I think it's great! Not to mention, that answer kind of leads up to my next question. What changes would you like to see take place as far as music and any other aspect of society over the next 30 years?
I hope that in thirty years people will be more accepting to Country music. It's a lot more accepted than it used to be, but I think it still has a way to go. If I could be a country artist that crosses over into pop music as well, I would love to have the opportunity to do that. I think that artists like Taylor Swift, Lady Antebellum, Rascal Flatts, and The Band Perry who have had songs played on both pop and country stations and can be categorized as either country or pop have helped to bring a lot more of a new younger audience into Country music and have helped make country music more modern to what today's pop music is. I would also love to see a revival in the church. There is so much desensitization that has taken place thanks to the media that the shock factor of seeing murder on tv, nudity in movies, hearing God's name in vain, and drug activity doesn't exist anymore. It has gone from abnormal to accepted as normal to see those things around us and I hope that it changes.
I have to say that
that
is one of the best answers I've ever gotten for that question. I couldn't agree with you more! We touched on this one a little bit already, so it would be great if you could just elaborate a little bit. What kind of role model do you want to be for kids?
I want to be seen as a strong individual who always is confident in his ability to do the right thing even if others won't be accepting and to be recognized as a man of God. I want to drive people to overcome any struggles they are facing,or to stand up to any problems they have in their life. I want to take all the experiences I have learned from in my life and be an example of what it's like to overcome even the hardest difficulty you are facing. I also am really open about my faith and personally feel as though everything has happened to me to shape me into who God plans me to become. So since I have been through experiences like having tourettes, my biological father passed when I was five, or being bullied, and living in Nashville, where I see a lot of people who are homeless and less fortunate my eyes are opened to things like, "I want to help those people if I ever make it", or "I want to have a story to share that other people who lost a parent will be able to relate to" and I also want to create organizations for people who are bullied and for people with tourettes.
These answers keep getting better and better! I won't keep you too much longer, I only have a couple more questions for you. In your opinion, why is it so important to go for your dreams while you're still young?
I believe that if you have a dream and there is something that you love, than you should go after it. I would rather have the opportunity to be in a career I actually enjoy doing everyday instead of one I don't like but I have to do to pay the bills. Life is too short to not do what you really enjoy. I am thankful that I have been able to have the opportunity to pursue my dream and that I have such a supportive family who believes in me.
Awesome! I just want to say that I've enjoyed speaking to you very much Tyler, you're truly an inspiration and a very nice young man. I know you're going to make it far! So let's close out this interview with this, what has been your biggest moment thus far?
I would say that my biggest moment thus far has actually been having the opportunity to live in Nashville, TN where I am so blessed to have met alot of great people who believe in me and want to help me succeed. I have been able to write with some amazing songwriters who have already had songs cut by other artists or have had songs on the billboard charts. The fact that in one year of being in Nashville pursuing music as much as possible without a record label I was able to grow my fan base over 30,000 people online and that people start to come hear me perform means a lot to me. Ultimately just knowing that I have my foot in the door, and it is a matter of time before the rest of things fall into place, and the door is flung wide open is my biggest moment thus far!
And there you have it folks! Tyler it's been a pleasure! Please keep us updated on your success, and don't forget us when you make it big! Guys you know what to do, make sure you connect with Tyler on all of his social networks, you can find all of the links below. And also be sure to check out the official video for his original song "Wonderstruck". Thanks for reading, and keep checking back for new features!
Facebook
Twitter
Youtube