We've been gone for a minute, but we're back with a new Feature! Hailing from Jacksonville Florida, by way of Compton California, is Christian Recording Artist and Rapper, Poetic Lace a.k.a. Le'Serone Smith. Not only is Poetic Lace a Music Artist, he also considers himself to be a Born Leader, with hopes to inspire, inform, entertain, and acknowledge God through all genres of music. At only 24-years old, he is taking on the world with his message, and it doesn't look like he'll be slowing down any time soon. Without further adieu, please check out our ONe-On-1 Exclusive with Poetic Lace!
It's been such a long time! But Livingtru.com has finally caught up with Poetic Lace, a.k.a. Le'Serone Smith. Let's get right into it. Now tell me, how did you get your start in music, and what inspired you?
"It all started with me writing poetry to relieve stress. I've been through a LOT of ups and downs in my life, and writing poetry is how I coped with it. I had played basketball for awhile, but quit. Then I transferred to Florida International University in Miami. After this transition, at one point I became homeless. I got sick with hives and my banking account was "mysteriously" emptied out. I felt very much alone, but God was always there for me. When he brought me out of that situation, He told me that I have work to do, and that music was a part of my purpose. However, I never took my gift of writing seriously until I'd quit playing basketball. Needless to say, several months later here I am composing songs (my first project was sponsored by La Vida Clary Mason/Mijoi and Associates LLC), that I consider to have a positive influence and glorifies God. Lol. What truly inspired me was not just what God had done for me, but what he can do for others.There is so much negativity in the world - I feel it's time for something positive. I met a lot of people who didn't know they have a heavenly Father who loves them."
There are a lot of people hurting out there. It's good to know you still believe there is a God even through adversity. Obviously you believe in God, so what role does he play in your life?
"God is my everything! Smile. Without Him I am nothing. He's my Best Friend, Father, God, Creator...everything. That pretty much sums it up. Lol. Oh yea, I am saved through the blood of Jesus Christ!"
Lol. Thanks for that no-holds-barred answer! Now, can you tell us who some of your biggest influences are?
"My biggest influence is Jesus Christ. He is the definition of keeping it real! He spoke his mind, He was loyal, He wasn't afraid to be Himself, He went out his way to help people, and He died for what He believed in! My family also plays a huge role in my life, and I am not just talking about blood relatives. I have a host of church family who influence me as well. As far as musical influences go; I would be lying if I said Tupac Shakur didn't play a major role. His music meant a lot to me growing up. I have a lot of respect for his passion, he fought for what he believed in. Oh, I am also a Lecrae fan!"
I love it! I'm a Lacrae fan too, lol! What is positive energy to you, and how do you utilize it?
"Positive energy to me...(laughing). It's hard to explain in words. God has done a lot in my life. Just the thought of that moves me to excitement! Having a pen and a pad in front of me, people laughing and smiling, and the Holy Spirit in the atmosphere...That's amazing! I know it sounds crazy, but I'm the type of person that instead of complaining about something, I will just go fix it. So the more souls that need help, the harder I have to work to do my part. "
What projects are you working on?
On March 23rd I released my debut project, "When Silence Falls" and it is available for purchase on iTunes and free download at datpiff.com. This project takes you on a journey from the perspective of a far from perfect person. All of my flaws, mistakes, ups and downs will be exposed as we travel through righteousness. Everything is one hundred percent original and Holy Spirit given! I am also working on several music videos. Be sure to see the "Broken Wings" extended version.
Sounds good. You are obviously a very busy man! Lol. Can you tell me what changes you'd like to see in our society?
"Truth be told, the Bible says its going to get worse before the return of Christ, but I would love to see us unite as a people. I'm talking about all people, no division of color, just everyone coming together as one through the blood of Jesus Christ."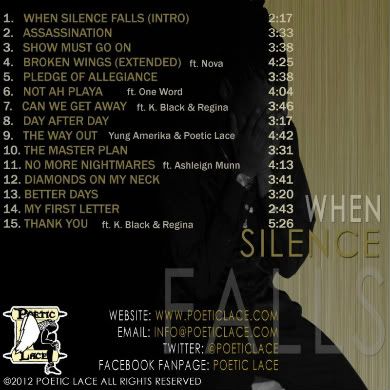 That would be awesome. Folks just being who they are and not trippin' off race. Lol!
How do you feel about the entertainment industry as a whole, do you think more people should get involved in sending positive messages?
"I apologize in advance if I offend anyone, but the entertainment industry is full of bull. How is it cool to market evil? Because of what we see and hear, young ladies (not all) feel like they have to lay down and spread their legs to get somebody to love them. Young men (not all) feel like they are nothing without money. Drugs and murder are what I hear most on the radio in my community. There are some strong influential artists/actors/entertainers out there, but they get put through hell. Either they get no support or the media bashes them. So, yes I do feel more people should get involved sending positive messages. But if they don't, its cool, I'll hold it down (winks)."
Tell us how you really feel! Lol. Honesty's cool. What advice would you give to someone interested in entertainment, or any other field of their choice?
"My advice is: if God put a desire in your heart, then go after it with everything you have. There will be times when you won't see the light, but you have to believe. Regardless of what you are pursuing you will encounter trials and tribulations. What doesn't break you helps make you. So stay focused and stick to your guns."
What keeps you motivated and grounded?
"Reading my Bible and prayer helps A LOT. Looking at what others before me have gone through, and how they overcame it puts me in a "who are you" mind frame. Who are you if you haven't been through anything? Who are you that everything should be easy? Jesus' own people turned Him in to be crucified. Who are you? I'm Gods' child. That's what motivates me."
I pray everyday! I can't live without it, and that's real. Lol! Tell me what messages you want to transcend to others through your music?
"The message from me is...Just come to God. You don't have to be perfect, rich, cool, attractive, a certain ethnicity, or anything. God knows all about our imperfections, but it doesn't stop Him from loving us.
And lastly, if you had the opportunity to do something really profound, what would it be?
"To get in a position where I am able to feed the hungry, clothe and provide shelter for the homeless. And, most importantly, get people to go to God by way of Jesus Christ."
Wow, that's cool. I love hearing that you believe in Jesus Christ. I think it is way cool when I hear Justin Beiber telling his fans the same thing! Well, I'm down for Jesus Christ! Thank you Poetic Lace. Your interview was very insightful! We'll be following you!
"Thank you once again for this opportunity. I enjoyed speaking with www.LivingTru.com. Have a blessed day!"
Be sure to connect with Poetic Lace on all of his social networks!
Facebook
Twitter
Youtube
Check out the new video for "Broken Wings" by Poetic Lace Ft. Nova!
Article By:
Blu